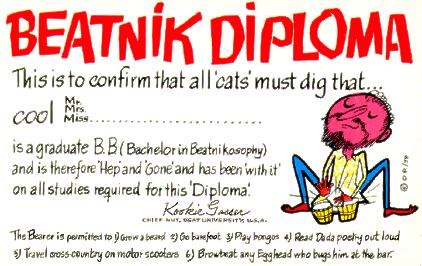 Yesterday's post reminded me of a story. It's the tale of my worst hangover ever, on November 1, 1994.
Why, yes, I do recall the date.
I was a freshman in college, a few days shy of my 18th birthday. I had been extraordinarily well-behaved in high school, for a combination of reasons. Strict parents, my own desire to not do anything that would jeopardize my escape from Woodbridge, and, mostly, the fact that I was a nerd and never got invited to deal drugs or kidnap babies with the bad kids.
I made up for it in college. My first night in Chapel Hill, I got bombed on Boone's Farm Strawberry Hill. A bicycle cop approached, I laughed in his face (I'd never seen a bike cop before and thought it was some sort of prank), realized he really was a cop, threw the bottle of Boone's onto the ground…and then had to slurrily sweet-talk my way out of a littering citation.
By Halloween, I had the party girl routine down to a science. A friend and I dressed as Beatnik poets, complete with berets, turtlenecks, bongos, and coffee mugs full of vodka. We spent our evening roaming Franklin Street, entertaining the masses with extemporaneous poetry. I seem to recall having a very good time.
The next day was hell. I had only one class, at 2:00, and I almost didn't make it. I eventually got up, showered, and chose a shirt and jeans at random. (The shirt was actually a pajama top.) I made it across campus to my Anthropology course, and proceeded to slump into my seat as if I'd left my skeleton at home. I may have drooled. But just a little.
The T.A. arrived, and several classmates begin lobbying to hold class outside. It was the sort of bright, sunny North Carolina day that makes your heart sing. Unless you'd been chugging vodka out of a coffee mug, in which case it's the sort of bright, sunny day that makes you want to climb into the nearest dumpster and go back to sleep.
Despite my feeble protests, we moved to a group of benches near a small parking lot. At this point, I'd given up any pretense of paying attention. I slammed my sunglasses into place and laid down for a nap. Just as I got comfortable, a dump truck began to back up in the parking lot behind me.
Beeeeeep. Beeeeeeeep. BEEEEEEEEEEEEEEEEEEEEEEEEEEEP!
That was it. I left class with the T.A. in midsentence, crawled back into bed, and stayed there until Sunday.
In the comments, tell me if you've ever laughed in a cop's face. Or just make me feel better for having been a dork in high school.