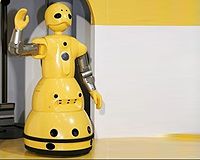 When the universe is trying to tell me something, it prefers shouting, waving of arms, semaphore, smoke signals, and perhaps a few neon signs. This is good, as I am dense. How dense?
I had to be told Spinal Tap wasn't a real band
.

Yesterday, I ran into a former temp job colleague on the Metro. The subtext of the conversation was that I was replaced within five minutes, and nobody ever missed me at all. This was the culmination of a week in which the universe walloped me in the head with lessons of irrelevance and interchangeability.

This should feel horrible, after all, who wants to be told they aren't the super special child of a glorious and just universe? Why wouldn't I want to picture the people of my previous lives, weeping and clutching photographs of me? Why wouldn't I want to imagine life grinding to a halt without my amazing presence?

Clearly, I need a lesson in humility. And perhaps I could have some fun with how easy it is to swap myself out.

Secretary Shannon could be swapped out for a recording which says, "Thank you for your call. We are happy with all of our current vendors, and please do add us to your Do Not Call list."

Friend Shannon could be replaced with a lever device that repeatedly picks up a glass of beer, and an intermittent recording which says, "Hey! Dude! Y'all! The hell? Indeed!"

And Blogger Shannon could be replaced with Ikea furniture assembly instructions. "Insert stupid action by self/others into Slot A, place screw in pithy observation Slot B, attach pathetic/sarcastic bid for attention Slot C. Congratulations! You have built a Disaffected Scanner EXPEDIT."

Really, I should set all of these up and just take the rest of August off. I've always wondered what it would be like to be German.

In the comments, embrace your irrelevance and tell me how you could be replaced.