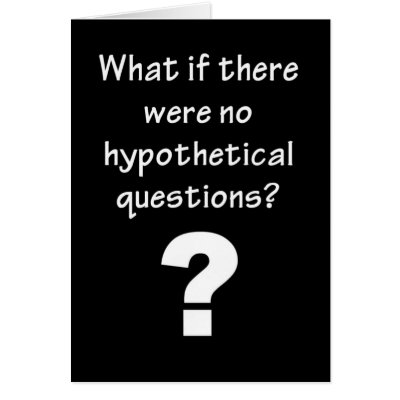 Maybe I wasn't hugged enough as a zygote, or perhaps all those years of hardcore Pixy Stik abuse have finally caught up with me. At any rate, I've started to test the limits of my friends' affection for me. And I don't mean by stretching their patience, running to the edge of their compassion, or by mocking them until they cry. That's just a typical Tuesday for me.
Instead, I construct bizarre hypothetical scenarios and hope for the best:
Would you still find me attractive if I had a third boob? What if it was on my kneecap?
Would you still love me if I moved to New York to try my luck as a ninja pirate karaoke artist and perform vaudeville routines in Times Square?
Would you still be my friend if I invented my own language consisting entirely of taps and squeaks?
Would I still be pretty if I shaved the word "MOM" into the back of my head? How about if I wore a Vanilla Ice "Word to Your Mutha" jacket?
Would you still be my friend if I got a job kicking puppies, then using the puppy carcass to club a baby seal? Would it make a difference if I ate both the puppy and the baby seal? A good difference or a bad difference?
As humor is both my favorite coping mechanism and my first line of defense, I can only assume there's a deeper reason for all my third boob and ninja queries.
Maybe the pain and brute force of the changes I've been through in the last six months have left me feeling wobbly and unsure. My life spun from awesome to painful to damn near perfect, and back again, and landed somewhere near terrific. I'm thrilled and giggly, and, more importantly, I'm content. Life is pretty much where it's supposed to be.
But, perversely, nothing shakes my confidence quite like the feeling that everything is going a little TOO well.
We're all just a few wrong turns from disaster. I could lose any number of the people I love, in any number of ways. Or I could lose my job, or get sick. Or the insides of me could change, and I could become someone I wouldn't want to be. To some degree, I have control over these things, but much of the time I do not. So I try to appreciate everything I have, and to be someone worthy of everything I've been given.
But I have the occasional ugly moment where I'm waiting for disaster. And because I hate uncertainty, I hide behind my imaginary language of taps and squeaks, and wait for the other shoe to drop. I'm afraid to admit how much everything and everyone means to me, and I'm hiding behind jokes about baby seals.
In the comments, tell me I'm crazy. Or, tell me to be careful what I wish for, because I just might get it. Or admit that sometimes you feel like life is going a little TOO well.