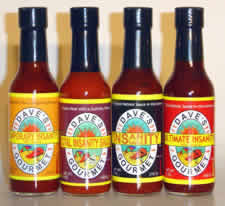 I've had some odd jobs. Night receptionist in a dorm, where mostly I was there to call the police every time spoiled residents chucked lounge furniture off the balconies. Reader/guide for a legally blind lawyer. Diplomat's wife.

None, though, will ever compare to my tenure as a Hot Sauce Salesgirl. Like many of my high school classmates, I had a part-time job at Potomac Mills Mall ("Come for the Bargains, Stay for the Tacky"). Most of my friends slung popcorn at the AMC, a few worked in the nicer shops or the Silver Diner, the saddest souls gave out quarters at the Planet Fun arcade.

Meanwhile, I worked at a hot sauce cart. It was this little kiosk that sold hot sauce, salsa, barbecue sauce, jerk sauce, sauces and rubs aplenty. Plus a few badly-squashed fancy chips and some t-shirts bearing the shop logo (more on the logo later).

Not impressed yet? I haven't gotten to the best part: the cart was called "Burning Desires." Level One of Wrong: I was 17 at the time. Level Two of Wrong: I was about a ten-minute drive from Quantico Marine Base. Level Three of Wrong: I had to wear an apron and a polo shirt bearing our logo. Level Four of Wrong: The logo was two peppers dancing, but they, uh, didn't look like peppers. Defcon Level Five of Wrong: I had no customers, so I spent most of my shifts fielding prank calls.

"Do you sell edible underwear?"
"Can I sample your hot sauce?" (accompanied by heavy breathing)
"So, do you have barbecue rub? And I apply it directly on myself?"
"I'd like to slather YOU in hot sauce!" (accompanied by a call to the police)

The store went out of business within six months. This was Woodbridge in 1994, when "adventurous ethnic food" was a TGIFriday's fajita and spicy food was too big of a dream.

Nowadays, it all seems so tame. I was such a prude! Teens today would gleefully get a job at Burning Desires, take cameraphone pictures of their underpants surrounded by jars of Dave's Insanity Sauce, and broadcast it on their Facebook pages.

In the comments section, tell me about the most inappropriately suggestive job you've ever had.